All cities and dates
European Outdoor Film Tour 2019/20
Bamberg
15.11.2019, 20:00
Konzerthalle Bamberg - Joseph-Keilberth-Saal Directions
Get your tickets / ticket
---
Order Online—Safe and Easy:
You will receive your online ticket immediately after purchase to print at home. The printed ticket must be exchanged for a valid hardcopy at the box office (does not apply to shipped tickets). You can easily and securely pay via PayPal, bank transfer, or credit card.
Annotations
Aus Sicherheitsgründen gilt bei dieser Veranstaltung eine Garderobenpflicht. Die Garderobe kann kostenfrei abgegeben werden. Bitte planen Sie entsprechend Zeit ein.
Our local partner / ticket agency
Rolands Alpin Laden, Bamberg

Gute 200 m2 Verkaufsfläche und Alles da! Wenn Du es nicht glaubst komm doch einmal vorbei. Unser Familienunternehmen liegt am Rande des Zentrums der wunderschönen UNESCO Weltkulturerbe Stadt Bamberg und lohnt immer einen Ausflug. Beinahe vor der Ladentür beginnt das deutsche Klettermekka Fränkische Schweiz, das zum Wandern, Klettern, Kanu- und Radfahren einlädt.

Die Nähe zu dem Mittelgebirge aber auch den Alpen führt zu unserer Outdoorbegeisterung. Unsere Kernkompetenz neben dem Klettern ist vor allem im Bereich des Skiverkaufs und dem Skiservice zu sehen. Bei uns wird jeder Ski nach Deinen Wünschen montiert und präpariert. Das ehrlich fränkische und freundliche Team setzt sich aus Bergführern, Sportleistungskletterern, Triathleten, Langläufern und ehemaligen Skirennfahrern zusammen. Jeder einzelne Mitarbeiter ist selbst Natur- und Outdoorenthusiast und kann aus eigener Erfahrung Deine Fragen beantworten.

Neben Beratung und Verkauf ist Service bei uns großgeschrieben und wir wollen, dass jeder mit unseren Produkten zufrieden ist und bleibt. Wir kümmern uns um all Eure Probleme in Sachen Outdoor. Meistens gibt es auch einen fränkischen Brauereitipp obendrauf. Wir freuen uns auf Eure Besuche.

Euer Roland
Rolands-Alpin-Laden GmbH
Nürnberger Str. 100
96050 Bamberg
Germany
Directions via Google Maps

+49 951 25767
www.rolands-alpin-lade...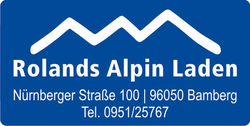 Venue
Konzerthalle Bamberg - Joseph-Keilberth-Saal
Mußstr. 1
96047 Bamberg
Germany
Directions via Google Maps

+49 951 9647 200
www.ce.bamberg.de

Doors: 19:30