All cities and dates
European Outdoor Film Tour 2019/20
Kaiserslautern
11.12.2019, 20:00
Kammgarnhalle - Kaiserslautern Directions
Get your tickets / ticket
---
Order Online—Safe and Easy:
You will receive your online ticket immediately after purchase to print at home. The printed ticket must be exchanged for a valid hardcopy at the box office (does not apply to shipped tickets). You can easily and securely pay via PayPal, bank transfer, or credit card.
Annotations
Please note:

Tickets which will be sent by post (only within Germany) will not be shipped before 1st June, 2019.

If you purchase your ticket until 30th June, 2019 you can save the online system fee.
Our local partner / ticket agency
Der Rucksack
Wir führen sowohl in unserem Laden in Kaiserslautern, wie auch in unserem online Shop,
Ausrüstung für die Bereiche Bergsport, Klettern, Camping, Trekking, Extremsport und Wintersport.
Also die passende Ausrüstung für jeden Naturfreak. Somit kannst du dich online als auch persönlich bei uns über Produkte, neue Entwicklungen und unser Erlebnis-Angebot informieren.
www.rucksack-kaiserslautern.de
Der Rucksack
Marktstraße 3-5
67655 Kaiserslautern
Germany
Directions via Google Maps

+49 6316 7570
www.rucksack-kaisersla...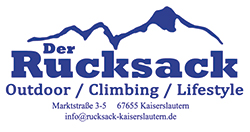 Venue
Kammgarnhalle - Kaiserslautern
Schönstraße 10
67659 Kaiserslautern
Germany
Directions via Google Maps


www.kammgarn.de

Doors: 19:30