All cities and dates
European Outdoor Film Tour 2019/20
Kaiserslautern
11.12.2019, 20:00
Kammgarnhalle - Kaiserslautern Directions
Sorry, the show is sold out!
We always try to organize extra shows near you. Enter your e-mail address below and we will inform you about extra shows in or around Kaiserslautern.

Last chance for tickets: All returning tickets will be sold directly at the box office. No online registration possible. Box office opens 1,5 hrs prior to show.
Our local partner / ticket agency
Der Rucksack
Wir führen sowohl in unserem Laden in Kaiserslautern, wie auch in unserem online Shop,
Ausrüstung für die Bereiche Bergsport, Klettern, Camping, Trekking, Extremsport und Wintersport.
Also die passende Ausrüstung für jeden Naturfreak. Somit kannst du dich online als auch persönlich bei uns über Produkte, neue Entwicklungen und unser Erlebnis-Angebot informieren.
www.rucksack-kaiserslautern.de
Der Rucksack
Marktstraße 3-5
67655 Kaiserslautern
Germany
Directions via Google Maps

+49 6316 7570
www.rucksack-kaisersla...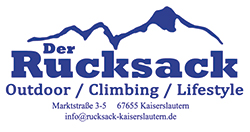 Venue
Kammgarnhalle - Kaiserslautern
Schönstraße 10
67659 Kaiserslautern
Germany
Directions via Google Maps


www.kammgarn.de

Doors: 19:30