All cities and dates
Get your tickets / ticket
---
Order Online—Safe and Easy:
You will receive your online ticket immediately after purchase to print at home. The printed ticket must be exchanged for a valid hardcopy at the box office (does not apply to shipped tickets). You can easily and securely pay via PayPal, bank transfer, or credit card.
EARLY BIRDs aufgepasst!
Bis zum 30. Juni 2019 spart ihr automatisch beim Ticketkauf die Online-Systemgebühr.
Our local partner / ticket agency
Mehrprofi GmbH

Seit März 2008 begrüßen wir Euch im Erlebniszentrum auf der F.-O.-Schimmel-Straße 2 in Chemnitz. Über 2 Etagen bieten wir alles zum Thema Angeln, Klettern, Outdoor und Wandern.
Mehrprofi GmbH
F.-O.-Schimmel-Straße 2
09120 Chemnitz
Germany
Directions via Google Maps

+49 3714005692
www.mehrprofi.de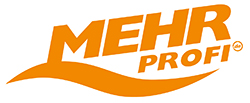 Venue
Cinestar Chemnitz
Neumarkt 2
91111 Chemnitz
Germany
Directions via Google Maps



Doors: 19:45